Megan is thankful for the grace everyone has extended her!

We can all heal together!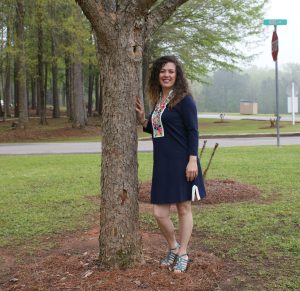 If you had asked me to describe my life eight months ago, I would have said something like, "My dad killed himself. My mother never recovered from her addictions. I was bounced between homes and lived most of my time in the midst of mental illness and troubled foster children. Everything in my mind is tainted with negativity and alcohol numbs it so I can keep going." I am so thankful that no one asked me to describe myself eight months ago, because that last sentence is such a lie.
This is the truth: my name is Megan. I have an amazing ten year old son named Ezekiel who loves science and all things time travel. I'm a former educator with degrees in International Studies and Modern Languages. I love to learn, and I especially love to help people gain understanding and reach their goals – so much so, that I became an Adult Education instructor with the intent of helping to bridge the gap for those who needed a hand up through education in literacy, GED, business ethics, computer skills, and college entrance preparation. My program was very successful and rose quickly to the top in my region. Before I knew it, I was on the Board of Directors for my local Chamber of Commerce, I worked with the Downtown Development Authority, I served on the board for our Family Connection, and I helped build a Stop the Cycle program to give people an opportunity at an education rather than a jail sentence. My heart was in the right place, and from the looks of it, I was rising to the top in my career. What I didn't take into account was the toll that kind of commitment takes on a person.
If you know anything about educators, you know that they don't do it for the money. There I was, a single mother, working a full time job four days a week and a second job during my "weekends". It was only a matter of time before something had to give, and it started in my relationship with Ezekiel. I left him in the care of my parents more and more. I didn't have the mental energy to solve other people's problems all day and then come home and invest in my child. I couldn't find joy in his presence because all I wanted was a break. Eventually, I found that break at the bottom of a bottle. What had begun as a nightcap after my son had gone to sleep developed into a full blown relationship with alcohol to the point that I would begin to drink before I walked in the door each night.
Eventually, my dependence on alcohol found its way into every other aspect of my life. In 2018, I got my first DUI. I became a participant in my own Stop the Cycle program. You would think the embarrassment would have been a wakeup call, but it wasn't, and I lost my job as an instructor at the end of that year because of my erratic behavior. Later, several stints in jail and a major car accident should have been enough for me to admit that I had a problem, but waking up on a ventilator with a shattered pelvis and broken ankle weren't even what it took to wake me up. I knew I needed to make a change in my life, but I thought I needed to handle it on my own since I had caused the problems. I was still in denial. That changed last August.
It began with being told, "No." I heard it from my family, my best friend, and my significant other. There was no more bailing me out. There were no more excuses for my behavior, and I knew I had backed myself into a corner. If I wanted my life to be different, I would have to admit that I needed help and accept it no matter what that looked like. As it turns out, that help looked like the Rescue Mission of Middle Georgia, and it's nothing like I could've ever dreamed. I call this place my 'God bubble', I know there's no such thing since God is everywhere, but you get the idea – I feel safe, safe enough to heal. Here, I've learned that my value is constant – that I don't have to perform for acceptance, what grace is, that the demonstration of true grace takes strength and is far from a sign of weakness, that the ability to receive grace builds a person's character and encourages a closeness with God that I could not understand in the haze of my addiction. My relationships with my family, best friend, and my significant other have all improved. I don't feel like I have to hide or numb my feelings anymore and they know that they can now be honest with me about the impact my addiction had on their lives so that we can all heal together. I am so thankful for the grace that has been extended to me through this program. It's exactly what I didn't know I needed.
Today, if you ask me to describe my life, I say, "My mother and father tried to fight their battles alone. Their absences allowed me to meet new people who shaped the course of my life and taught me compassion. When I tried to fight my own battles, God sat me down at the Rescue Mission and taught me that I don't have to do anything alone ever again."
Thank you for your love,
– Megan Jacobs
Click here to download the May 2023 issue of The Mission Bell