"I turned my back on God a long time ago… I was broken."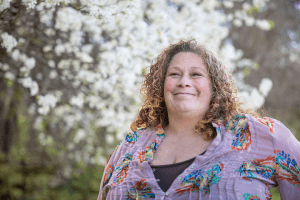 There were never enough hours in the day for Tracey. She worked and took care of her two children alone. She made sure the bills were paid and that her kids had everything they needed, but she had no time for herself.
A family member suggested she try methamphetamines for a little extra boost of energy to get through the day and get everything done. Before long, Tracey was hooked. But instead of helping, the drugs started to take over.
"The more I worked, the more I fell behind financially," she says. "I was more worried about the drugs than my other responsibilities."
Eventually, Tracey lost her home and got into legal trouble. Her children went to live with relatives.
While sitting in jail, Tracey hit rock bottom. She knew she'd let her kids down. But when the court ordered Tracey to be released to the Rescue Mission of Middle Georgia, she got a second chance.
The Mission welcomed her with open arms. "Everyone was so nice. They made sure that I was okay and had everything I needed," she says.
Tracey began to heal – then thrive – through the Mission's biblically-based classes and counseling sessions. She joined the recovery program and started working at the Mission's thrift store. And she opened her heart to the Lord.
"Now I know I'm loved. I didn't really know what love was before I came here."
"I'd turned my back on God a long time ago. I was broken. I didn't want to be on earth anymore," Tracey explains. "But the Mission supported my spiritual healing, too."
Tracey knows she has a lot of work to do to repair her relationship with her family, but she's ready for it. The Mission has helped her set aside her old negative beliefs and focus instead on God's Word.
"I look at myself in the mirror every day and smile. I hold my head high. I know I'm worthy. I don't have to hide anymore," she says.
Tracey is excited to celebrate the restored hope she has been given this Christmas – and wants YOU to know just how grateful she is. "I couldn't ask for a better place. If you want to change and better yourself, this is where you need to be."  
Click here to download the Holiday 2022 issue of The Mission Bell